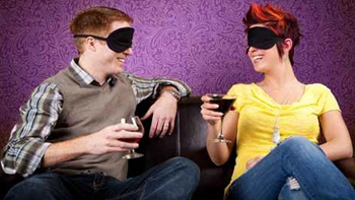 Online Dating: Proceed with Caution
If you're looking for love via the internet more than likely you have considered the idea of an online dating service. There are numerous dating websites and no doubt you know of someone who has utilized one of these dating services. Possibly they met some nice people but almost definitely they met a few incompatible or "unique" individuals too. Unfortunately though, you don't know who you're REALLY meeting and the likelihood of meeting someone with dishonest intentions is a threat you need to be aware of. It's easy to get caught up in the moment but don't let your heart guide you.
Turn on your internal radar, trust your instincts, exercise caution and look for the warning signs. When you reach the point where you're considering meeting him/her in person, take one more step of precaution and perform a background check to see if there are any skeletons in their closet. If they object, this is another red flag to be aware of.ONLINE DATING 101: Red Flags to be aware of: FRAUD:
NEVER share your personal or financial information.
NEVER send money to someone you meet online even if they claim it's an emergency. Don't do it, most likely it's a scam!
DON'T fall into the trap of buying airline tickets, paying medical bills, mortgage/rent payments. utility bills, etc.
NEVER give out your credit card number or bank information.
NEVER share your SSN, address, phone, place of employment, etc.Be Alert to the Following Behaviors:
• Quickly asks to text, talk or chat on an outside email
• Changes their name or profile
• Talks about "destiny" or "fate" or "soul mate"
• Claims to be recently widowed
• Asks for your address (even for the purpose of sending flowers
or gifts)
• Unusual amount of grammar and/or spelling errors
• Claims to be from a specified geographical area but travels
often, living or working abroad
• Claims financial hardship or "woes"
• Makes grandiose claims
SafteGuard Your Identity
• Don't share your full name OR use a fictitious name until you
know the person and have valid reason to trust him/her
• Don't share personal phone numbers, email address, home
address, and place of work or any other identifying information
until you have established a reasonable level of trust.
• Do not post personal contact information in your profile or
username.
• Create an alternate email address for communicating
Cyber Security
When accessing online accounts from a public or shared computer be aware that others are not able to view or record your password or other personal information. Always clear the browsing history before leaving the computer.
Get to know the other person online before meeting them in person
Whether you're utilizing an online dating site or communicating via other social media websites, anyone who behaves indecently or in an abusive way should be reported (if applicable). Immediately stop communicating with anyone who pressures you for money, personal or financial information.
Your safety is of the utmost importance therefore always use caution when interacting with any stranger. Always trust your instincts and if the person you're meeting makes you feel uncomfortable, unsafe or threatened, immediately terminate communication.